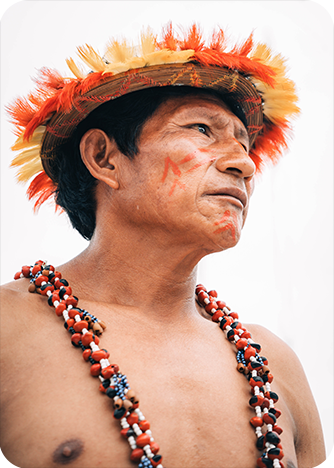 Discover the essence of the Amazon with Mayantop
Welcome to Mayantop, your gateway to a unique e-commerce experience deeply rooted in collaboration with the Kukama and Matses tribes and their rich cultures. Mayantop embodies the essence of this harmonious partnership, which is why we proudly bear this name. Our mission is to invite you on a transformative journey, connecting you with the purity of 100% natural products and allowing you to tap into the remarkable healing potential of our indigenous remedies for both body and soul. 
At Mayantop, our esteemed team includes shamans like Jose Rios and Jhunandiel Miranda, who graciously share their profound wisdom drawn from our ancient culture. We stand alongside other native communities such as the Huitotos, Shipibos, Ticunas, and more, collectively offering you the very essence of the Amazonian rainforest. When you purchase from us, you're not only investing in premium products but also in the sustainable development of these indigenous communities, fostering a brighter future for all.
🌿 Holistic Wellness:
Mayantop is dedicated to providing you with access to nature's bounty. We carefully curate products that harness the unadulterated power of the Amazon's natural resources, ensuring your well-being is our top priority.
🤝 Cultural Exchange:
We believe in fostering cross-cultural connections. By collaborating with indigenous tribes, we are not only preserving their traditions but also enabling you to gain a deeper understanding of their way of life through our offerings.
🌎 Sustainability:
Mayantop is committed to sustainable practices. We work diligently to minimize our environmental footprint and support the sustainable growth of the Amazon rainforest, the source of our inspiration and livelihood.
✨ Transformation:
We aspire to be more than just an e-commerce platform; we want to be your companion on a transformative journey. Mayantop products are more than items; they are gateways to a world of natural healing and cultural enrichment.
My Superpower Is
Our Special Services
Currently we work with 01 local family and 02 different indigenous tribes in addition to the other tribes that we articulate from their communities in the jungle. We guarantee the best quality of our products, we strive with great love on every package we send, and we are very grateful and satisfied for it.
💲 Secure Payments
Shop with confidence knowing your financial information is protected through state-of-the-art encryption and fraud prevention measures.
⚖️ Fair Trade
Our company collaborates and works with Amazonian communities fairly, providing job opportunities and promoting sustainability and equity.
🔒 Secure Shipments
The company offers discreet and personalized shipping worldwide, ensuring the confidentiality and satisfaction of its customers.
♻️ Sustainable Development
We get involved in projects that promote sustainable agricultural and forestry practices, respecting the cultural traditions and ancestral knowledge of the communities.
Our Success: Celebrating our milestones and customer satisfaction in online retail.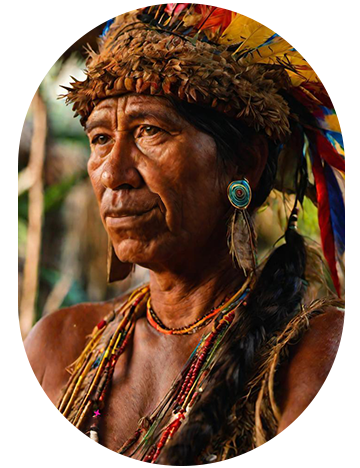 The mapacho is a kind of natural and powerful tobacco, without chemicals.
It is very different from cigarettes, since it is considered here in the Amazon that it is not carcinogenic,
the place of origin, as we well know, is from the entire American continent. When it is smoked we use it as a way to clear energy; of a space and a person.
It is also said that the mapacho helps to invoke the power of other medicinal plants.
A great heavenly ritual, which has been made known over the years, to obtain absolute immunity in our body, called the Kambo, therefore, the person obtains the powers of the kambo through the spirits of mother nature, obtained here in the Peruvian Amazon by many tribes.
What does huachuma mean?
The word wachuma, in Quechua, literally means, "to be headless, head off, cut off the head, cut off the ego." The Spanish Jesuit monks, upon arriving in the new world and coming into contact for the first time with the rituals that had this plant, were surprised with the therapeutic and spiritual capacity of the wachuma. These, in turn, quickly understood the healing power of the echinopsis pachanoi and named it the Saint Peter's cactus, in honor of the patron saint of the Catholic Church and custodian of the gates of heaven.
Say hello, on our support
Contact us is if you have questions about the service, or need recommendations on how to use our products. You can also contact us for whatever you want.